Dear , Sweet , Beautiful Rebecca of
A Re-Purposed Life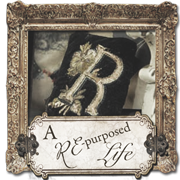 hosted an awesome
600th Post Give Back Giveaway
the end of January
I was so lucky to have been one of her winners!
As with the usual blogging style...I photographed the package
that arrived on Valentines Day!
after opening the prettiest of packages I think I've ever seen
this gorgeous burlap bag with lace and lovely trims
( this could be a gift itself!)
love the mix of burlap and lace~
one of my favorite things!
inside were these two great postcards
and an awesome... "Junk Follower" Necklace!!
I've worn it several times and get compliments from everyone!
Thank you so much Rebecca!
If you haven't been to Rebecca's
Blog
please go over and check it out
she is SO Talented and Inspiring!
Guaranteed you will find lots to love !!
leaving you with another pic of Sweet Hannah
( another Beautiful Gift!)